ANA ROCHA ALVES
Lawyer & Founding partner
Her experience is currently focused on the sectors regarding business, tax, labour, commercial, banking and financial litigation, corporate insolvency and restructuring and loan recovery.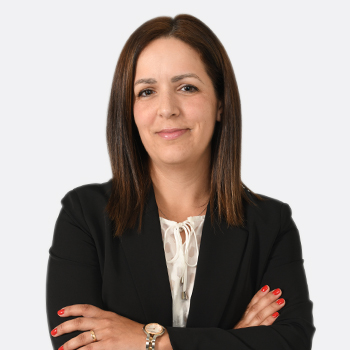 Mother of two children, Ana has worked in the most diverse branches of law.
Law Degree from the University of Coimbra Law School, in June 2004.
Lawyer, member of the Portuguese Bar Association since 22 November 2006, she started working in individual practice, moving on to corporate practice a few years later.
Founding partner of NOVA Advogados, her experience is currently focused on the business, tax, labor, commercial, banking and financial litigation, insolvency and company restructuring and credit recovery areas.
Fluent in French and English.
OTHER ACTIVITIES
Specialization Course in Executive Law (20080)
Specialization Course in Registration and Notary (2011) (2011)
Jurist in Office of Referral of Victims of Domestic Violence (2013-2014)
Speaker in actions/seminars on gender-based violence and family law (2013-2014)
Member of the Local Extended Committee of the CPJC (since 2014)
BEYOND THE LAW
She has been an operational element of a voluntary fire brigade since 2004 and has been in command since 2010.
She has been an association leader in a local cultural association since 2010.

We are a multidisciplinary team which genuinely embraces each project and each customer to their image and speaking their language.
WE KNOW THE LAWS OF CHANGE
CONTACTS
Av. General Humberto Delgado, n.º20 – 1º
4800-158 Guimarães, Portugal